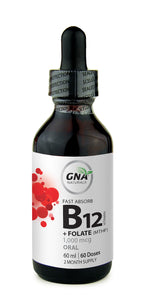 Fast Absorb Liquid B12  with Folate 
Helps with Energy Boost
Helps with the Normal Function of the Immune System
Vitamin B12 with Folate (Folic acid or Vitamin B9) are both members of the B-Complex group and have unique roles in the body both individually and together.


Health benefits of B12 include:
Pain relief

Brain Health

Depression

Anti-inflammatory

Skin

Pregnancy

Eye Health
Health Benefits of Folate include:
Supports healthy fetal development and pregnancy

May reduce risk of Cancer

May prevent heart disease

Enhance brain function

Acts as a natural antidepressant

Anti-aging

Promote fertility

Promote healthy immune system

Enhance brain function

Acts as a natural antidepressant
Together they play vital roles in: 
Cellular metabolism

Production of red blood cells

Energy production

Healthy nerve function

Normal cell division, especially in pregnancy

Aid in DNA synthesis.
These two key essential vitamins also have the important role of preventing cell damage caused by homocysteine. Homocysteine is a toxic amino acid created by the body and a major risk factor for cardiovascular, neurological and bone disorders. Homocysteine levels tend to increase with age and with the accumulation of lifestyle factors such as smoking, alcohol consumption, and eating a diet high in processed food. Also a genetic variant that causes an impaired ability to metabolize active folate from folic acid.
The body naturally recycles homocysteine to prevent build-up but inadequate stores of B12 and folate hinder this process.
Though they can be taken separately, maintaining proper ratio of these two nutrients can prevent you from masking a potentially dangerous deficiency that can lead to nerve damage. 
GNA Naturals® insures the proper balance of both vitamins. 
GNA Naturals B12 is Methylcobalamine (most bio-available active form of B12) and our Folate is Methyltetrahydrofolate (5-MTHF - the most bio-available active form of folic acid).  
At GNA Naturals, we triple test all our products and guarantee the highest quality and purity. We value our customers as your satisfaction is the cornerstone of our philosophy. We offer free shipping on $60 orders. We are always happy to provide you with outstanding products, so visit us now and we will help you optimize your health.


Medicinal Ingredients:
Glycerine, Potassium sorbate
(1 ml contains)
Vitamin B12 (Methylcobalamin) 1000 mcg
Folate (L-5-Methyltetrahydrofolate, Calcium Salt) 400 mcg
Non-Medicinal Ingredients

Glycerine, Potassium sorbate,

Black cherry flavour, Water, Xanthen Gum, Citric Acid
Recommended Dose:
(Adults and adolescents 12 and over) Take 1 ml once daily or as directed by a health professional. 
60 ml